Attributes of a test pilot ( job spec)
*Nerves of steel
*Low pulse rate
*Ability to judge danger and to act accordingly
*And most importantly super cool under pressure and super cool generally!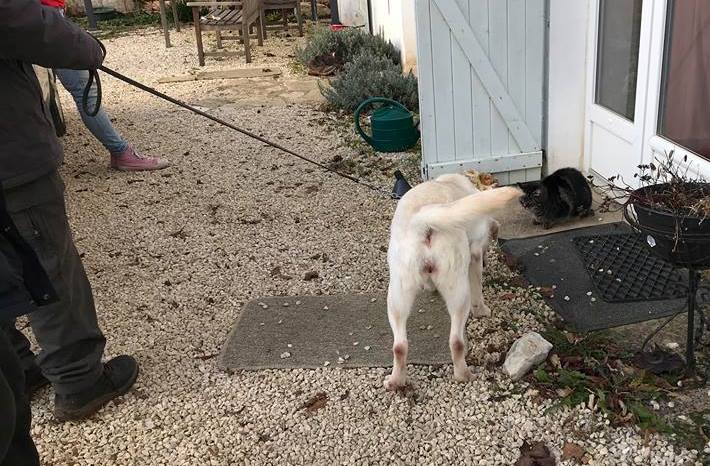 Hello…..let me introduce myself. My name is Dizzy ( aka Dizz-bomb or Six bellies) and I am basically one cool cat. As such, my special skills are occasionally called into service as I can tick all of the above desired job attributes.
As you good people will know, most of the Enroute dogs have a chequered mystery life story. I am proud to say that I am the current official Cat/Dog Tester and I take my role very seriously indeed.
It works like this………. I'm generally in a position of repose, either in the sun or in front of the log burner…..someone new arrives by car ……I ignore…….my person comes and scoops me up…..I ignore……..I get taken outside where there is an unknown canine creature sniffing about in my yard. Canine and I meet and we see what happens…… (usually…. I ignore). Then I hang about out in the yard with said Unknown canine and we continue to ………ignore (obviously dogs being dogs they just have to get the sniffing thing out of the way).
I'm told I'm pretty unusual ……….I hold my ground in the face of canine mock lunges and other general exuberances. I really like dogs (I own two) even though they're simple creatures and I like to give them the best chance to show their most respectful behaviour….no encouraging them to chase me by running away for example. Hissing and claws-out are deployed only in extremes……..that's my general life-rule for conservation of energy.
So, if you read on a dog's enroute profile that it has been cat tested, it usually means that my afternoon has been pleasantly interrupted with a visit by a newbie Enroute dog hoping for a new life.
Bye for now Dizz-bomb(proof)