Recently a wonderful friend and fellow dog rescuer posted this on my Facebook timeline for me. It made me laugh, but I knew exactly what she meant. Without thinking about the En Route dogs, their suffering and the people who had carried out such despicable acts, I had only to look around at our own pack. Two of them cosseted from birth, but none of the thirteen we have adopted have had any reason to have faith in people. The neglect, abuse, use for monetary gain and complete lack of feeling is shocking.
Finzi, our sixteen year old Griffon who, at twelve, had spent years on a chain and on concrete. Chain marks on his neck, half a tooth, a leather backside and legs, so skinny and full of fear.
Zita, a nine year old American Cocker who had been used for breeding. Abandoned when she was no longer useful – blind and deaf. I can't bear to think of her running around not knowing where she was.
Athos, a thirteen year old Poodle who spent his first ten years in a barn with dozens of other Poodles. Blind and living in terror of people.
Tansy, a fourteen year old Shi Tzu, dumped in the middle of a field and left to die. Unable to move as her coat was so matted tying her legs together. A person did that and walked away to get on with their day.
Fae, our newest arrival – another Griffon. A beautiful face and a tortured, mangled body from endless pregnancies and litters, neglect of her painful medical condition and a total lack of respect for her life.
Without refuges and rescue associations where would these dogs be? They certainly wouldn't have come to our notice on Facebook and websites. They probably wouldn't have ended their days with full bellies, feeling safe and pain free in a warm and loving home. So how does that happen – the transition from hell to safety and happiness?
It's because of the people behind the scenes.
I've worked for, and with, dog rescue organisations for years and have met the most amazing people who work tirelessly to right the wrongs, to mend the damage and to celebrate the life changes for the dogs. Most of this endless work is done for little or no financial reward, mountains of frustration, bucket loads of tears and days of utter despair. We carry on because the rewards are priceless.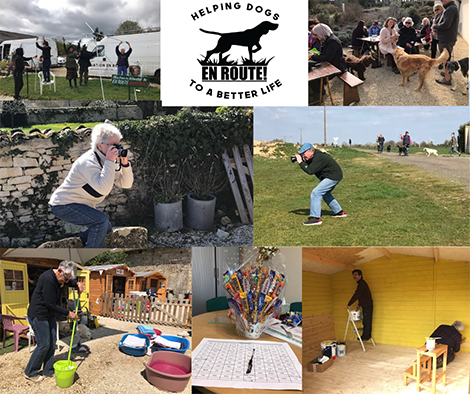 It wasn't until Christa and I set up En Route that I understood fully the range of tasks that need to be carried out for the Asso to run smoothly, effectively and efficiently. Developing and reviewing contracts with the pound and vets is crucial. A good working relationship takes time and effort. We also need to operate within the law. You will often see adverts for foster families, adopters, dog walkers, photographs of cheques being handed over from committed fundraisers, happy stories of dogs starting life in a forever home and the wonderful post-adoption stories. To make this all happen there are people (volunteers) that you may never hear about or even see. They carry out tasks that you may never even have thought about. En Route has a team of people like that.
Most of you will have seen our base at Ark 79. That shed needed to be erected, painted, flooring laid, shelves fitted, cleaned, banners/leaflets designed and ordered, signs made, furniture sourced and every Tuesday it has to be staffed. So many people made that happen.
Our website and Facebook pages didn't happen on their own. People with those skills carry out this work. They need updating regularly too. Somebody else does the design work for our leaflets and posters. Advertisements for dogs have to be posted. A volunteer gathers the information and writes them. Volunteers take the photographs.
There are volunteers who help to transport dogs to the vet, from the pound to the Ark79 shop and other events, to foster/adoptive families and any other journeys needed. Volunteers who vet applicants for fostering or adoption, carrying out home visits and writing reports.
We are lucky to receive donations of equipment and bedding. They all need to be sorted, washed, stored in sizes and kept in good condition. Packs for foster families have to be made up, labelled, stored and delivered as needed. A record has to be kept of where equipment is and collected when no longer needed. This is all done by volunteers.
Administrative records and procedures have to be maintained and kept up to date. Volunteers keep the required logs in relation to the transfer of ownership and veterinary care. Each dog has to have his/her own file tracking ownership, issues and movement. Financial records that are available for inspection are kept by another volunteer. Volunteers take meeting minutes, draw up action plans and keep up to date calendars of events.
Although we receive support from some fundraising charities and businesses, fundraising is an essential part of our activities. This is one of the most time consuming and demanding parts of our work. Without a healthy balance in the bank we can not help as many dogs, nor can we respond to unplanned expenditure such as unexpected surgery, special diets or essential equipment. Every event that you see us advertise has been planned, organised and rolled out by En Route volunteers. We can never have too many people involved in fundraising.
This is what makes En Route work. This is what moves dogs on to a better life. Every single thing we do is done by a volunteer – our group of dedicated people.