Update March 2021
At the beginning of September 2020, Sarah Massey set out to run (and occasionally walk) the equivalent distance of Lands End to John O'Groats, that's 874 miles!
Six months of running and walking through the French winter, lockdown, curfew, rain, snow, ice and a bit of sunshine and she's done it already !!!
It's not been without incident or injury but Sarah never stopped driving herself to her target.
We are so proud of you and what you've done, Sarah. Thank you so much and a huge well done to you.
Through the challenge, Sarah's raised 973€ in sponsorship money plus 150€ from the sale of an item she donated taking the grand total to 1123€, so our heartfelt thanks also go to everyone who's donated.
What does that total mean to us? It means we have been able to help with a more than average number of dogs who have needed expensive medical care. As an example, little Aggie needed an op which alone cost 341€ and she's gone on to rule the roost from a comfy bed rather than suffering, and probably ending her life, in the cold of a refuge environment.
It's not too late to donate towards the challenge. If you'd like to make a donation to help our dogs, you can pay through PayPal using our mail address henri@assoenroute.com, by cheque made payable to Association En Route and sending it to 8 Rue d'Aunis, 79120 Sainte Soline, or by cash of course.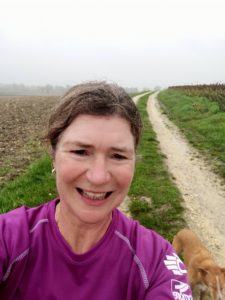 This year is proving challenging for us for two reasons: we are being asked to help a number of older dogs, who often come with health issues that need veterinary intervention, and we have very few fundraising opportunities in these challenging times. At the end of August, Sarah Massey approached us and offered to take part in an 874 mile walk or run, the equivalent distance of Lands End to John O'Groats, in aid of En Route and set herself a challenge of raising a euro for each mile of the challenge.
Two months in to her challenge, Sarah has run (or occasionally walked) 246 miles in all weathers, to help us raise some much needed funds and has raised an impressive 330€ (as at 28 October 2020). Well done Sarah and a huge thank you to everyone who has donated so far!!
If you would like to help keep Sarah motivated by sponsoring her for part of her journey, even just a couple euros for a couple of miles, you'll make a big difference to her and to our dogs.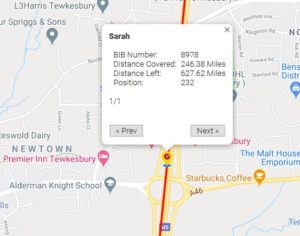 If you'd like to be involved, you can send a cheque to Association En Route, 8 Rue d'Aunis, 79120 Sainte Soline, use Paypal through our email address henri@assoenroute.com or donate cash if you're local.